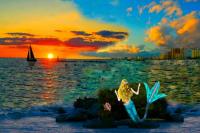 SKU: SS
SIREN SUMMER - 12" x 18"
PEOPLE'S CHOICE WINNER FOR JULY!
My interpretation of the theme for our monthly Art Walk "Colors of Summer" was titled "Siren Summer" and features Marco Islands picturesque crescent beach with an iridescent sky, a mermaid and a sailboat cruising the sunset. This unique creation captures Marco's beauty!
My creations are on cotton-polyester artist canvas with archival-quality photo dye inks. Each unique creation is hand-stretched onto durable stretcher bars and gallery wrapped or framed. Gallery wrapping provides a finished look that can be hung without a frame and ready to enjoy.
For additional protection, enhancements and added texture, I hand-embellish the unique canvas creations with acrylic brush strokes, giving texture, added color and depth to the image. By enhancing the texture and color of the piece, the end result is a beautiful, unique creation with character and detail.
This piece can be shipped signed and unframed. Please contact me for more information and pricing. This will make a wonderful addition to your collection.
Please contact me for a unique portrait, removable mural, unique Mermaid jewelry or a custom design of your own.
You too can become a MERMAID!
Please call 239-642-4834 for a unique creation!